Weekly Blog: 25th October 2019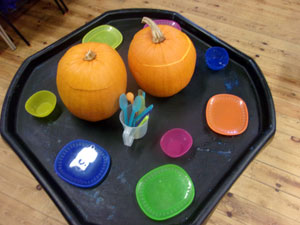 This week the children have continued to be inquisitive and energetic. Activities have included:
making spiders with pom poms and pipe cleaners, paper plate Autumn wreaths, feet ghost pictures and leaf people at the craft area
scooping out pumpkins, drawing faces on the pumpkins and using the pumpkins as train tunnels
listening to world music, dancing and playing musical games and instruments
learning about Diwali, creating firework pictures and rangoli patterns
creating patterns with playdough
playing with room on the broom puppets at our room on the broom table
playing whats the time Mr wolf
completing puzzles and playing board games
lots of listening to stories and rhymes
crafting with glue, paint, dabbers, ink from the craft trolley...
...and many more activities! As usual the weekly blog represents a snapshot of what most of the children participate in during the week. Please speak to your childs key person if you would like to have further information about your childs interests and progress.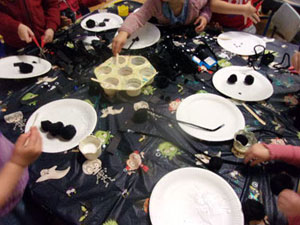 A reminder that we have a box of books to borrow by the front door and you are welcome to borrow books from this box to read with your child, return and swop for a new one when you are ready.
Dates for the diary: as well as the Christmas film event on the 16th of December we are also having a Christmas party for all of the pre-school children on the afternoon of Thursday the 19th of December. Parents do not need to attend if their child is already in session. More information to follow after half term.
Please note we will be raising funds for Children in need and there will be more information on this to follow after half term.
We are now closed for our half term break and we will see you again when we are back in session on the 4th of November. We hope you have a lovely week.
Best wishes, Julia, Grace, Sharon, Lisa, Jackie and Amy