Weekly Blog: 26th March 2021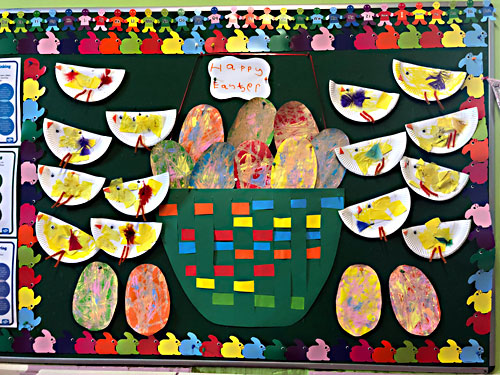 Another busy week full of fun games and activities.
This week we have:
Learned about Spring, the sign of Spring and baby animals born in Springtime
Lots of phonic activities and singing the jolly phonics songs
Gone on a Spring hunt in the garden with binoculars and magnifying glasses
Sang and did the actions to action songs
Practiced recognising numerals and writing numerals on wipe boards
Read a lot of stories
Made Easter cards
Played with play dough
Played board games and completed puzzles
Lots of playing outside playing running games and circle games. Also pretending to ride brooms around the garden
Weaving with paper a giant Easter basket for our display board and paint rolling on paper
Bubble fun
Yoga
As usual the weekly blog represents a snapshot of what most of the children participate in during the week. Please speak to your child's key person if you would like to have further information about your child's interests and progress. You are welcome to ask your key person for feedback at any time and book a time to have a meeting for feedback on how your child is progressing.
Hoping you all have a lovely weekend.
Best wishes, Julia, Grace, Sharon, Lisa, Hannah, Jackie and Amy