Weekly Blog: 16th October 2019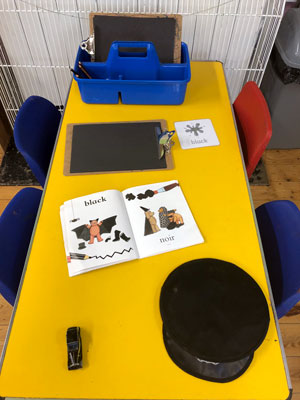 This week we have had so many fantastic learning opportunities that we have developed and the children have been busy as bees.
The activities we have participated in have included:
playing hide and seek inside after lunch. This really made us laugh and the children really enjoyed it
role played shopping and cooking various feasts
painting pumpkin pictures with apples
listening to and discussing P.S.E.D (personal, social, emotional development) stories and discussing them
sorting shapes
investigating natural objects with magnifying glasses
Listening to the story Handas Surprise and developing this by playing memory games based on the story and pretending to be the animals in the story
phonics 1 games and activities and singing the jolly phonics songs
with older children we have been looking at one less and one more than a given number (0-10)
recognising and naming logos
naming and recognising colours, sorting and matching them and focusing on our colour of the week - yellow
listening games based on different animals and the initial letter sounds in words
extending understanding of prepositions by moving objects about and naming where they are
continuing to make up our own stories at group time and then acting it out
playing 'guess the mystery musical instrument' being played by one of us
i-spy phonics
number formation practice and number songs
leaf rubbing pictures
number recognition in the garden using beanbags and the number shape mat
keep fit in the garden and checking our heart beat to see if it is beating faster after exercise
practising writing our names
As usual the weekly blog represents a snapshot of what most of the children participate in during the week. Please speak to your child's key person if you would like to have further information about your child's interests and progress. You are welcome to ask your key person for feedback at any time and book a time to have a meeting for feedback on how your child is progressing.
We are looking forward to seeing you all next week. Hoping you all have a lovely weekend.
Best wishes, Julia, Grace, Sharon, Lisa, Hannah, Jackie and Amy